a breath of fresh air
Every fortnight I curate some of the observations and insights that were shared on social media. I call these Friday's Finds.
"Yes. It's really only since wireless networks got fast enough to stream pictures to portable devices that everything changed, & enabled each individual person to live twenty-four/ seven in their own personalized hallucination stream." ―Neal Stephenson, Fall; Or, Dodge in Hell
We're in a guerrilla information war and everyone is a participant.

Here are pertinent rules that apply to the current moment —

a) every single physical event, is won or lost online.

b) this is an asymmetric conflict.

c) you can't participate if you can't connect.
—@JohnRobb
What is the Stockdale Paradox? via @robpatrob
Stockdale speaks about how the optimists fared in [prisoner of war] camp. The dialogue goes:

"Who didn't make it out?"
"Oh, that's easy," he said. "The optimists."
"The optimists? I don't understand," I said, now completely confused,
given what he'd said a hundred meters earlier.
"The optimists. Oh, they were the ones who said, 'We're going to be out by
Christmas.' And Christmas would come, and Christmas would go. Then
they'd say,'We're going to be out by Easter.' And Easter would come, and
Easter would go. And then Thanksgiving, and then it would be Christmas
again. And they died of a broken heart."
BMJ: Uncertainty is inevitable in pandemics, but some simple rules help decision making by @TrishGreenhalgh
Five simple rules for managing uncertainty in a pandemic

Most data will be flawed or incomplete. Be honest and transparent about this.
For some questions, certainty may never be reached. Consider carefully whether to wait for definitive evidence or act on the evidence you have.
Make sense of complex situations by acknowledging the complexity, admitting ignorance, exploring paradoxes, and reflecting collectively.
Different people (and different stakeholder groups) interpret data differently. Deliberation among stakeholders may generate multifaceted solutions.
Pragmatic interventions—carefully observed and compared in real world settings—can generate useful data to complement the findings of controlled trials and other forms of evidence.
"This is a vital addition from @hughes_eilir Respiratory viruses spread faster in winter because we cram indoors and then don't open the windows. The less ventilation a hospital, school or care home setting has, the higher the risk. The fresher the air, the lower the viral load." —@DrPhilHammond
The biggest challenges facing us today are climate change and environmental degradation. The current pandemic is a symptom of these situations. These are complex issues without simple answers or explanations, because with complex problems the relationship between cause and effect is only seen after the fact. As H.L Menken stated, "Explanations exist; they have existed for all time; there is always a well-known solution to every human problem — neat, plausible, and wrong." Thinking in terms of neat and plausible answers only feeds the post-truth machines.
The best way forward is through cooperation and the engagement of a diverse set of human abilities. Cooperation is freely sharing among equals in order to benefit the greater whole. Hierarchies, such as those found in most institutions and organizations are useless in the face of complexity. As Yaneer Bar-Yam explains in Complexity Rising, hierarchies have diminishing usefulness as complexity increases.
Climate change is a direct result of pursuing profit with no regard for what are known as 'externalities' — polluting our oceans, destroying forests, or decimating other species. The competition we see in markets is a game that does not live in reality but is based on the dreams of economists. But new thoughts for a cooperative, networked world are emerging from economists like Mariana Mazzucato.
"What we need is for this call to action to fundamentally change how we think about the governance of all organizations that produce value: how to organize dynamic government agencies outside static silos; how to rethink corporate governance structures so that they are more focused on the long term and they reward all the actors that help create profits; and how to listen to the movements in civil society — whether the green movement or those calling for better healthcare — to formulate the missions of the future that can drive innovation for the decades to come. The populist wave around the world is evidence that this will not succeed if it is not truly participatory, allowing different voices to come to the table, and to negotiate healthier deals, creating an economy that is more innovative, sustainable, and inclusive. I believe it is very difficult, but truly possible." —Mission critical
Mazzucato goes on to show how markets and business must change.
"The climate crisis is also a public-health crisis. Global warming will cause drinking water to degrade and enable pollution-linked respiratory diseases to thrive. According to some projections, 3.5 billion people globally will live in unbearable heat by 2070. Addressing this triple crisis requires reorienting corporate governance, finance, policy, and energy systems toward a green economic transformation. To achieve this, three obstacles must be removed: business that is shareholder-driven instead of stakeholder-driven, finance that is used in inadequate and inappropriate ways, and government that is based on outdated economic thinking and faulty assumptions." —Avoiding a Climate Lockdown
There is an emerging — often feminine — voice leading us to a cooperative future. Our patriarchal systems for the past centuries ignored 50% of the population. We need all of our best minds to cooperate and work on facing our challenges of adapting to climate change and cleaning up our messes. The market form can no longer dominate our societies. Neither can the institutional form of dictatorships and totalitarian states address these complex challenges.
If you are in government — increase diversity.
If you run a business — pay a living wage so people more willingly cooperate.
If you want to save the environment — engage young people.
It's time to cast off the vestiges of male-dominated, control-oriented systems of domination. We are all on this planet together and it's now our prisoner's dilemma.
Evolutionary Game Theory, as put forth by Professor Christoph Adami, backs up our need to cooperate.
"We found evolution will punish you if you're selfish and mean. For a short time and against a specific set of opponents, some selfish organisms may come out ahead. But selfishness isn't evolutionarily sustainable." —Prof. Christoph Adami
I wrote the following in 2009 —
Workplace learning in 2019
Much of the workforce will be distributed in time & space as well as in engagement (part-time, full-time, contract mix).
More learning will be do-it-yourself and gathered from online digital resources available for free and fee. More workers will be used to getting what they need as they change jobs/contracts more frequently but remain connected to their online networks (online/offline won't matter anymore).
Work and learning will continue to blend while stand-up training will be challenged by the ever-present back channel. Successful training programs will involve the learners much more – before, during and after.
Conferences, workshops and on-site training will become more niche and fragmented (smaller,  focused & connected online) as travel costs increase and workers become more demanding of their time.
The notion of PKM will have permeated much of the workplace
These changes will not be evenly distributed.
It seems that most of these speculations have arrived, not evenly distributed, as forecast. Several have been accelerated by the pandemic. I was wrong about travel costs, for now. The current situation is that many people will not or cannot travel. After the pandemic, if that time ever arrives, travel costs will likely increase as many carriers will be out of business or hurting financially.
I have seen an increased interest in PKM — or self-directed & networked informal learning — with more people registering for the online workshop this past year. We recently completed a social learning program based on the Seek > Sense > Share framework at a global financial institution which will be rolled out to tens of thousands employees over the next couple of years. The Working Smarter with PKM field guide is a reference for this program.
So here we are, with work and learning becoming more closely integrated. Learning and development departments that ignore this integration or keep workplace learning in separate containers and evaluation systems will likely become obsolete. Do not be overcome by events — read the writing on the silicon walls.
Your knowledge store should support people who browse as well as people who search. It should be like a shopper-friendly supermarket.
Some shoppers know exactly what they want. They walk into the relevant store, ask an assistant where to find the item, and buy it. Others are open to serendipity, and prefer to browse. They don't always end up with what they went into the store to buy, but often end up with a better purchase.
You can see similar behaviour among the customers of online knowledge bases. Some know clearly what piece of knowledge, or document, they are after, and use targeted search to find it. Think "Google".
Others are not so sure where the knowledge lies, and
prefer to browse
. Think "Wikipedia", with its ability to follow links to find what you want.
We need our knowledge bases to cater for both types of customer. We need good effective search for the people who know exactly what they want (implying that content needs to be well tagged), and we need a browse-friendly structured site so people can find what they need, even if they didn't know it existed.
Here a bricks-and-mortar grocery supermarket is a good model. I say "bricks and mortar" as many people find online supermarket grocery shopping to be a very different experience.
Bricks-and-mortar supermarkets rely on people browsing to the content they want so they can buy it. They also give a lot of thought to pointing the customers towards other products, which they might not have known they needed. Every aspect of a store's layout, from the flower display near the entrance to the chocolate by the check-out is designed to stimulate "
shopping serendipity
".
Flowers, fruit and vegetables at the entrance make the store smell and look good
Quick-use "grab and go" items such as snacks and bottled water are at the entrance, for people who want to shop quickly
Promotional items are at the aisle-ends, so are in plain sight
Products are grouped by type (pasta, tins, cheese, butter) to make them easier to find
Popular high-value items are displayed at eye-level
Often there are themed displays - a Mexican section with sauces, tacos, tortillas, refried beans for example, or an Indian section with curry spices, sauces, poppadums and Naan bread - so you can buy all you need for a single meal
Warm colours attract people to a store, hence the warm brick exteriors. Cool colours inside encourage more contemplation and higher sales
Loyalty cards are used to track customer activity, and to learn more about customer behaviour.
Can we use similar principles to encourage users to browse our knowledge bases?
We could try
similar approaches to colours for example, or
putting the high value items in the high-visibility page space,
promoting new knowledge where it is most visible,
grouping and associating content in folders or on index pages so that all knowledge related to a particular process or activity is found together (see here),
placing the "grab and go" items on the front page, and
using web metrics to understand the behaviour of our knowledge customers, so we can improve the design of the knowledge base.
If we make our knowledge bases a little more like a grocery supermarket, we stand a better chance of attracting and keeping the browsing customers, and helping them to find knowledge that they didn't even know they needed.
Working smarter means that everyone in an organization learns from experience and shares with their colleagues as part of their work. Training is not enough — see the missing half of training. We cannot know in advance and prepare formal instruction for everything that people need to learn on the job today.
The 70:20:10 framework shows that learning at work is based, generally, on these ratios:
70% from Experience
20%: from Exposure
10% from formal Education
This framework provides a rule of thumb for resource allocation for workplace learning support. It is based on four key activities:
Exposure to new and rich experiences.
The opportunity to practice.
Engaging in conversation and exchanges with each other.
Making time to reflect on new observations, information, experiences, etc.
People need tools, skills, and work relationships to get things done. Tools are required to do the work or learn how to do it. This is the focus of the field of Human Performance Technology (HPT) and performance support. Also, individuals need the skills to be able to learn for themselves and make sense of their work and their lives. Personal Knowledge Mastery (PKM) is a framework that supports self-directed learning. Finally, all workers have to be able to work with, and learn from, others. This is social learning, which can be supported enterprise-wide through policies, practices, and technology.
Some practical ways to implement the 70:20:10 framework include:
Help people move from a fixed to a development mindset, encouraging learning at work.
Open up lines of communication, especially between new and experienced staff, in an environment of psychological safety.
Develop and promote communities of practice for learning among peers.
Provide high quality on-demand resources at the point of work.
These practices and the 70:20:10 rule of thumb can guide workplace learning but first, learning and development specialists have to become adept with new skills based on models perhaps outside of their previous experiences of content delivery.
Learning programs are often based on the premise of reducing errors at work. But organizational performance improvement means increasing insights in addition to reducing errors. The former is even more important in addressing complex issues such as shifting to remote work across the enterprise.
The transition to a modern approach for workplace learning can be built upon nine practice areas (below). This approach, initiated with a collaborative workshop, has already been successfully used by a global financial services organization and other companies, including software development firms.
A focus on social and informal learning will help organizations face more complex challenges and promote a proactive learning culture rather than a reactive system that focuses on problems after the fact. We can start by preparing people in learning functions across the enterprise to model the emerging behaviours required for an increasingly complex business environment.
This is the social learning workshop.
"This workshop helped focus and situate the core elements that needed consideration in the development of a learning transformation strategy at a major financial institution contact center." —Nancy Slawski, Senior Learning Consultant
Why do we hear so much about Content Management in Knowledge Management, and so little about Conversation Management?
Happy New Year to all readers of this blog.
I have been blogging about Knowledge Management topics on an almost daily basis since early 2009 (weekdays that is, excluding holidays, and times when I was in China with no access to Blogger). As a result this blog has nearly 3000 posts, and it's beginning to be really difficult to find something new to say.
So from this point on, I will blog on a weekly basis, and many of the posts will be a reworking of older themes.
I want to ask the following question:
If the subject material of KM is both Content and Conversation, why do we hear so much about Enterprise Content Management, and so little about Enterprise Conversation Management?
We know that knowledge is either tacit or explicit - either in the heads, or codified. We know also that there are two parallel approaches to KM -
the connect and collect approaches
(connecting the people, collecting the knowledge). We know the means of knowledge transfer through connect and collect are
conversation and content
.
Yet increasingly the content gets the lions share of the attention.
Why does the content get so much more attention than the conversations?

I think its possibly because content is far less messy to manage than conversation, and so much easier to automate. Also there are far more vendors working in the content space than in the conversation space, and you can do fancy things with content analysis. Conversation on the other hand is difficult to automate, and there are fewer vendors in this area. It often needs human facilitation or moderation to work well, or even to set up the conversations in the first place. Conversation management is harder and needs more human resource.
However conversation is as vital as content in KM, and in some cases, more so.
So focusing on content because it is easier to handle is rather missing the point. You ignore 80% of the knowledge, add value only in 25% of the cases, and are 14% as effective. It's the "
Streetlight effect
"; doing something because its easier rather than better, named after the old story of the person seeking for their lost car keys under the streetlight, not because they lost them there, but because its easier to look.
Conversation should therefore as much at the heart of our KM frameworks as content. For example:
Conversations within communities of practice, through which practices are discussed and shared, and problems solved - either online or face to face conversations such as Knowledge Exchange
Conversations between experienced and less-experienced staff, as part of coaching, mentoring, and job handover
Conversations within project teams to identify shared lessons, such as Retrospects and After Action Reviews
Conversations between one project team and other teams, such as Peer Assist, Knowledge Handover and informal one-on-one conversations based on knowledge needs and knowledge gaps, to ensure Projects operate from a state of "full available knowledge".
These are knowledge-specific conversations, all of them
dialogue
-based, and therefore different from action-specific conversations such as briefing and reporting, and different from the typical broadcast notification traffic seen on some examples of social media. It is through these dialogue conversations that tacit knowledge is brought to light, shared, and co-developed. Managing, structuring and facilitating these conversations - making them routine, efficient, powerful and deep - is a crucial element of knowledge management.
Content and Conversation are the King and Queen of Knowledge Management - they rule together. Content is something to talk about, Conversation is where Content is born and where it is tested. As Knowledge Managers, we should focus equally on both.
Please don't neglect Enterprise Conversation Management - pay it as much attention as Enterprise Content Management as part of a balanced KM approach, especially now COVID requires us to plan our conversation far more than we used to.
Every fortnight I curate some of the observations and insights that were shared on social media. I call these Friday's Finds.
"Word of the day is 'sequaciousness' (17th century): the blinkered, unreasoning, and slavish following of another, no matter where it leads." —@suzie_dent
"As our circle of knowledge expands, so does the circumference of darkness surrounding it." —Albert Einstein
"What we learned in 2020? That oil is worthless in a society without consumption. That healthcare has to be public because health is public. That 50% of jobs can be done from home while the other 50% deserve more than they're being paid. That we live in a society, not an economy." —@mhdksafa
You Think You Want Media Literacy… Do You? by @zephoria
"We know that you can't combat depression through rational discourse. Addressing depression is hard work. And I'm deeply concerned that we don't have the foggiest clue how to approach the media landscape today. I'm confident that giving grounded people tools to think smarter can be effective. But I'm not convinced that we know how to educate people who do not share our epistemological frame. I'm not convinced that we know how to undo gaslighting. I'm not convinced that we understand how engaging people about the media intersects with those struggling with mental health issues. And I'm not convinced that we've even begun to think about the unintended consequences of our good — let alone naive — intentions.

In other words, I think that there are a lot of assumptions baked into how we approach educating people about sensitive issues and our current media crisis has made those painfully visible."
Bohmian Psychology: The Undiscovered Continent of David Bohm's Worldview via @nancydixon
"Bohm used a metaphor to describe how we should hold onto our assumptions. He said, think of a blind man who is holding a stick to tap the ground ahead of him as he walks. If he grips the stick very tightly, he can't really use it to tap and sense the ground. But if he holds the stick too loosely, it is also useless and he is liable to drop it. So the blind man needs to hold the stick with a reasonable amount of firmness, but not too much. And that is how we should hold onto our assumptions—firmly enough to make use of them, but not so tightly that they are counter-productive."
The Most Important Knowledge KM is Ignoring by @nancydixon
"Dialogue, where members do not try to solve a problem, rather work to understand the problem they are jointly facing, is a necessary precursor to discussion. Dialogue requires us to listen respectfully to others, cultivate and speak in our own voice, and suspend our opinions about others and their ideas. It is the precursor because until all members come to a common understanding of a problem, any discussion just becomes a power struggle. Dialogue is the precursor because it develops the needed relationships and trust between those who are talking together. And most importantly, it is the precursor because, over time, holding dialogues changes the culture of an organization to one in which, even when in discussion, it is possible to maintain trust and relationship with others."
This pandemic has become a crisis in network leadership.
Last June, I wrote — our wake-up call
On 6 June 1944 the First Canadian Army landed at Normandy. It had never been tested in battle as a formation. The complications of drills in England had been replaced by the complexity of war and the chaos of battle. By the end of August, two brigade commanders and five commanding officers had been removed as they were deemed unsuitable.
"[In Normandy] There still remained, however, that proportion of officers who were not fully competent for their appointments, and whose inadequacy appeared in action and sometimes had serious consequences." —Breakout at Falaise
How many organizational leaders today are in the same situation as those inadequate officers in the Canadian Army — unfit for the post-invasion reality?
Only last week I wrote — sometimes perfection is the enemy of good
Understanding what domain of complexity we are dealing with is now an essential requirement for decision-makers. At its outbreak the pandemic was chaotic and required immediate action. Developing vaccines went from complex to complicated. Dealing with people and how groups react to the pandemic oscillates between ordered and unordered domains but has mostly been complex. Clear and simple communications can help to avoid confusion.
Today, many of those in leadership positions remain confused, not understanding if they are dealing with complicated, complex, or chaotic problems. They think in clear — but wrong — images, not understanding their state of confusion.
He is quick, thinking in clear images;
I am slow, thinking in broken images.

He becomes dull, trusting to his clear images;
I become sharp, mistrusting my broken images,

Trusting his images, he assumes their relevance;
Mistrusting my images, I question their relevance.

Assuming their relevance, he assumes the fact,
Questioning their relevance, I question the fact.

When the fact fails him, he questions his senses;
When the fact fails me, I approve my senses.

He continues quick and dull in his clear images;
I continue slow and sharp in my broken images.

He in a new confusion of his understanding;
I in a new understanding of my confusion.

—In Broken Images, by Robert Graves
The digital networks that now connect all of us globally give us a new sense-making platform that many of us and most of our leaders ignore or use inappropriately. I have said many times here that leadership today is helping make the network stronger, smarter, and more resilient.I have seen few cases where government knowledge sharing is making any of us smarter.
Today, in my province of New Brunswick, Canada, we are moving to the Orange level. The descriptions of what is allowed are confusing and often at cross-purposes, as are similar public health directives in many other jurisdictions. For example, there are single household 'bubbles', but strangers may gather and share the same air in a bar or restaurant. Schools, with their dated ventilation systems, remain open.
It is too bad that we cannot fire all these poor leaders and replace them with people who will help make their networks smarter. Some people are stepping up and using social media for knowledge sharing and sense-making. I use Twitter as a way to create human knowledge filters. I wish our political leaders did this as well. My pandemic knowledge filters include:
Here are some of the best of my fortnightly Friday's Finds of 2020. Happy New Year 2021!
"Hope and fear cannot occupy the same space. Invite one to stay." —Maya Angelou
"The first and final thing you have to do in this world is to last it and not be smashed by it." —Ernest Hemingway
"To abandon facts is to abandon freedom. If nothing is true, then no one can criticize power because there is no basis upon which to do so. If nothing is true, then all is spectacle. The biggest wallet pays for the most blinding lights." —20 Lessons on Fighting Tyranny
"Don't attribute to stupidity what can be explained by incentives." —Mike Elias
"Any idiot can impose and exercise control. It takes genius to elicit freedom and release creativity." —@DeeWHock
"propaganda does not need to be persuasive, only pervasive — its secondary purpose is to convince — its primary purpose is to exhaust" —@delphina777
"My new favorite definition of Gamification — the process of pouring behaviorist chocolate over instructionist broccoli. Via @bjfr." —@csessums

"The public has a distorted view of science because children are taught in school that science is a collection of firmly established truths. In fact, science is not a collection of truths. It is a continuing exploration of mysteries." —Freeman Dyson 1923-2020
"The coronavirus teaches us a lot about the true nature of our economy. The most important lesson: for decades, we've fundamentally misunderstood how our economy works. Our Civic Economy drives our Market Economy. Not the other way around." —@edmorrison
"When experts open up and become part of sense-making networks, their expertise travels to become part of informed choices of non-experts. It's a better option than pushing packaged solutions via authority lines assuming that people are not able to understand complex matters." —@mathemagenic

Commencement Address 2018 by John Seely Brown (PDF)
"The 'Catch 22' of wicked problems is that one cannot learn about the problem without probing it or trying solutions, but every solution you try can have lasting unintended consequences that are likely to spawn new complex problems … But, by now, you must be wondering: how can I keep developing better ways of sensemaking or interrogating context, or, simply picking up new skills given that the half life of skills seem to be shrinking to 5 years or less, and new tools are emerging, almost daily. One approach is to develop a broad and diverse network of colleagues that provide access, insights, and learning opportunities, starting with the connections you have already made here … Perhaps, maybe we can even create the Age of Imagination where we can fuse the arts, humanities & sciences, creating a new kind of alloy having properties that will differ significantly from those of their individual components."
Collaboration and empathy as evolutionary success stories, via @mbauwens
"If Homo sapiens sapiens wants to continue its fascinating yet so far relatively short evolutionary success story we have to evolve wise societies characterized by empathy, solidarity, and collaboration. Wise cultures, societies and a wise civilization will 'manage the household' with wisdom (oikos + sophia) and a love for all life (biophilia). Humanity's challenge in a constantly changing, complex world is to establish a set of guiding questions that focus our collective intelligence on responding wisely to often unpredictable and surprising change."
Every fortnight I curate some of the observations and insights that were shared on social media. I call these Friday's Finds and these are the last ones for 2020, a year few of us will forget.
So shaken as we are, so wan with care,
Find we a time for frighted peace to pant,
And breathe short-winded accents of new broils
To be commenced in strands afar remote.
—Henry IV
"A friendly reminder: Your inability to understand science is not an argument against it." —@Konfytbekkie
Dave Trott — Words Beat Data
1842 — A member of the [Children's Employment] commission asked a young writer to help with a pamphlet to turn public opinion against the cruel treatment of the poor.
To bring the greed of the wealthy to everyone's attention.
The young writer's name was Charles Dickens, and the pamphlet was to be called: "An Appeal to the People of England on behalf of the Poor Man's Child."
Dickens visited tin mines in Cornwall, and Field Lane Ragged School in London's east end.
What he saw there made him too angry to write a pamphlet.
Reason alone wouldn't change anything.
Someone else could do facts and figures — he needed to move people emotionally.
He said to the head of the commission, Dr Southwood Smith: "You will certainly feel that a sledgehammer has come down with 20 times the force of the first idea."

And Charles Dickens wrote A Christmas Carol.
A conversation with economist Mariana Mazzucato on the case against Scroogenomics
The state actually has been massively essential for capitalism to work by investing in the physical infrastructure, the social infrastructure, the deep tech stuff that I talk about "The Entrepreneurial State."

That's the myth about the free market. Without the state, we wouldn't have capitalism.
New Evidence That Grandmothers Were Crucial for Human Evolution via @kristinwolff
For years, anthropologists and evolutionary biologists have struggled to explain the existence of menopause, a life stage that humans do not share with our primate relatives. Why would it be beneficial for females to stop being able to have children with decades still left to live? … "Grandmothering gave us the kind of upbringing that made us more dependent on each other socially and prone to engage each other's attention." This trend, Hawkes says, drove the increase in brain size, along with longer lifespans and menopause.
While many of our professions and organizations can deal with some complexity, few are adapted to deal with chaos on a large scale. Chaos — violent political action, climate change, pandemic — require structures that promote curiosity and resolve. With frequent chaotic events to deal with we have to organize in temporary, negotiated hierarchies that can quickly form and re-form in order to test novel practices. The ability to do this requires diverse thinking, open structures, and trust among those doing the work. So I concluded in our wake-up call in June.
Six months later and what have most Western democracies learned? Not much. In the USA, EU, and Canada, half-measures continuously get added to already complicated and difficult-to-understand protocols. Instead of stopping the ship-of-state and taking it into dry-dock for a refitting to deal with a viral sea, we are haphazardly patching the vessel and missing what is below the water line.
Meanwhile the second wave of the coronavirus is bigger than the first wave. Governments are focused on a technological fix — vaccines — while providing little leadership and poor communications to their citizens. As Boss Godfrey says in Cool Hand Luke, "What we've got here is failure to communicate." Yes we do, as Professor Devi Sridahr described the situation in the UK.
"Creation of complex rules (with numbers of people, households, exceptions) varying by tiers, has created a perverse system where people look for loopholes. Instead, focus on why this virus is risky, what we can all do to avoid getting it, and passing it on, and the underlying science."
"Simply: transmits in indoor, poorly ventilated & crowded settings. Don't go into other people's homes. Keep distance, meet outside, & err on the side of caution. While older/vulnerable more at risk of dying, younger people can get seriously ill. Russian roulette with health."
Perhaps the clearest advice came early in the pandemic, and went unheeded by most governments. Doctor Michael Ryan, Executive Director WHO Health Emergencies Programme spoke in a press briefing on 19 March 2020.
"If you need to be right before you move, you will never win. Perfection is the enemy of the good when it comes to emergency management. Speed trumps perfection. And the problem in society we have at the moment is that everyone is afraid of making a mistake. Everyone is afraid of the consequence of error. But the greatest error is not to move. The greatest error is to be paralyzed by the fear of failure. I think that is the single biggest lesson I've learned in Ebola responses in the past."
Understanding what domain of complexity we are dealing with is now an essential requirement for decision-makers. At its outbreak the pandemic was chaotic and required immediate action. Developing vaccines went from complex to complicated. Dealing with people and how groups react to the pandemic oscillates between ordered and unordered domains but has mostly been complex. Clear and simple communications can help to avoid confusion. As Doctor Trish Greenhalgh advised this week:
Worried about the new mutant strain? Don't understand genetics? Me neither. Here's some advice:
—avoid crowds
—don't share air
—wear a mask
—ventilate e.g. open windows
—get vaccinated
Clear communications help us to collectively face complexity and chaos. Don't complicate the message.
Over the holiday season, take a look at Martin Berg's festive rendition of the Cynefin framework showing the five domains — Confused, Clear, Complicated, Complex, and Chaotic. There are times for action and times for analysis. It is becoming critical to know when is the right time for each.
As my last blog post this year, please find below a presentation I gave last month to CIEDO in Barcelona.

Many thanks to CIEDO for inviting me to the conference, which was extremely interesting. I was honoured to be invited.
In the video I am talking on the topic of KM Implementation, and suggesting that you approach it as if you were a start-up launching a new product into a market (which in many ways you are). I then pick five of the common ways in which start-ups fail, and suggest how KM can avoid the same failures.
Be aware, this is video lasts over an hour. The introduction is in Spanish as are the questions at the end, but my part is spoken in English.
A November 2019 article in the British Medical Journal showed how difficult it is to change peoples' minds, especially with regards to vaccinations. Facts don't change peoples' minds.
Lesson 2: don't bring a fact to a narrative fight

Experts and health professionals can arm themselves with white papers, peer reviewed studies, and symposia; but if these are our only weapons, we will only ever get so far. In an era in which experts are increasingly distrusted, the "we know best" mindset is counterproductive.

Those wishing to encourage vaccination need to identify and amplify the stories that emerge from the real lives and lived experiences of people in their communities (to start, they need to listen for them). It is no coincidence that the most effective climate advocacy in the world right now comes from the improvisations and stories of a 16 year old girl rather than the strategic plans of a generations old institution. —BMJ: New Power versus Old
For example, a mandatory education class in Ontario, Canada — complete with videos and health care professionals to advise — has been useless in getting parents to accept vaccinations for their children.
'But since it was introduced in 2017, thousands of mothers and fathers have dutifully watched the video, collected their "Vaccine Education Certificate" — then continued to duck the shots.

As one public health manager put it: "We had a zero percent conversion rate."' —National Post 2019-03-15
But the experience in Québec, Canada has been quite different, using a different approach. EMMIE (l'Entretien Motivationnel en Maternité pour l'Immunisation des Enfants), in English — Motivational Interviewing in Maternity Hospitals for Child Immunization.
It [EMMIE] uses a method of counselling called motivational interviewing, an empathic, non-confrontational communication style developed by psychologists to bring about behavioural change.

"We are here to understand them and to give them the answers they need to make a good decision about immunization, and to help them to build a stronger decisional process about immunization of the child," said [Doctor] Gagneur … [In the case of one mother] Just 19 and living in rural Alberta at the time she had her first child, Coulis said she did a lot of reading, a lot of which she didn't understand fully. "I felt confused and unable to parse the information about this study versus that study." There were big claims by anti-vaccination literature, but Coulis didn't see those acknowledged by the government materials or by public health nurses … "The message from public health was, 'Just trust us, we've done the thinking for you,'" she said. —CBC 2020-12-19
As Dan White so succinctly stated, "Sorry to break it to you but arguments and facts don't change people's minds. It's been proven neurologically that only relational warmth, not a war of words, can light up our neocortex awakening us to something new."
So far, the narratives presented by many of our authorities have not been very compelling. It's time to meet people where they are and listen. We have to not only get through this pandemic but prepare for the next, and more importantly deal with the climate emergency.
I blogged earlier this week about the KM accountabilities for project managers. Here is the counterpart - the KM accountability for the knowledge domain owners.
It is becoming increasingly common to appoint your CKO internally, from within the organisation.
A common question when
implementing Knowledge Management
- should your KM team leader, or CKO, be an internal appointment, or should you look externally to fill the role?
I posted on this topic in 2019
, but include some additional survey detail here.
There are advantages and disadvantages to both options, as I explain below, but the majority of organisations appoint their CKO internally. As the pie chart shows, 83% of organisations in
our three KM surveys (2014, 2017, 2020)
appoint the leader of their KM program internally, as opposed to 12% who appoint externally. The remaining 5% have no such role.
Not only this, but the trend of appointing internally seems to be increasing. In the 2014 survey the percentage of internal appointments (the red sector in the bar chart) was 79%. In the 2020 survey this was 86%.
The advantages and disadvantages of the options are listed below (this text is copied from my 2019 post)
Internal appointment
As we have often said, Knowledge Management is a
simple idea, but very difficult to do
in practice.
The idea - that people should share knowledge with each other and learn from each other - is not a complicated idea. The complicated thing is getting it to actually happen. Implementing KM is primarily about
culture change
, and culture change is both difficult and highly politically charged.
The primary value in having an internal appointment (and not just an internal appointment, but an internal change agent), is that they know the politics. They know how to get things done in the organisation; they know how to drive change. And that, as we know, is the difficult part of KM implementation.
The internal appointment has existing networks they can use, they know the business priorities, and the way the organisation works. They should have credibility within the organisation. They may also know the real reasons why previous KM attempts failed.
The disadvantage is that they might not know much about KM, and will need external
mentoring and coaching
in the details of KM and its implementation. There also might be a relatively small pool of change agents available within the organisation. And in addition, if the organisation has already tried KM with little success, an internal appointment may be too linked to, and influenced by, the approaches of the past.
There may feel like a lack of urgency if the appointment is internal, and the internal appointee may already have rivals at the firm, and if priorities shift, they can also find themselves transferred out of the role as quickly as they were transferred in.
External appointment
It will be easier to find an external person with a history of KM success in other organisations, and very often a new appointee, with a clear view on KM and a wealth of experience of what "good KM looks like," can be a breath of fresh air. It may be difficult to find such strong and passionate change agents within the organisation.
They will have experience in KM, a repertoire of interventions, and some good success stories to share. An external appointment might be on a fixed term contract of a few years, which gives KM an urgency, a project-like structure and a clear cost-benefit equation.
The disadvantage is that the zeal with which an external appointee will bring to KM may be met in equal measure by internal resistance. Organisation often reject "foreign bodies", and the best change always comes from within. The external appointee will not know the "language" of the firm, or the key players, or the unwritten rules and assumptions. They will need strong support from the CEO, and to surround themselves with mentors and coaches with decades of tenure at the organisation, to help steer the CKO through the political maze.
There may be a higher threshold to get started for an external appointee, and if they are on a fixed contract, they will still need to find an internal person to whom to transfer the accountability for KM when the contract ends, otherwise KM may wither and die at that point.
Our recommendation is as follows:
If you can find a good, experienced change agent within the firm who "gets" the vision and the opportunity KM can bring, then give them the CKO role, supported by coaching and mentoring from external experts. Their knowledge of how to change the organisation is more important that their lack of knowledge of KM.
If you cannot find such a person, or if KM exists but needs a shake-up, then look to hire someone external, and give them a wise "chief of staff" who knows the organisation inside out and can help navigate the politics associated with change. And if you are hiring your CKO externally, follow this piece of advice from a Knowledge Manager I interviewed:
If I was recruiting somebody external and I had an interview and I asked "do you think you were successful (in your last KM implementation)" and they said "yes we were absolutely successful" I would instantly be suspicious, because knowledge management is not straightforward. I want practical evidence that it was painful. I want to see the blood and the guts".
Internal appointment is far more common, and has big advantages, but ensure you get strong external mentorship from KM consultants with proven KM implementation experience.
In 2007 I was concerned that Facebook was selling personal data. That same year I asked if there could be a public alternative to Facebook By 2010 I had left the platform.
This year, after our local newspaper closed, I commented that we are now dependent on this global corporation — that uses our data to manipulate us — as our main form of communication. It is as if we live in a company-owned town, and buy all of our goods from the company store, using a party telephone line that the bosses listen in on. This is directly the fault of government, organizational, and community leaders who have either been lazy, ignorant, or perhaps malicious in promoting this control platform to engage others.
I have faulted our common natural stupidity for following along with the costly convenience of using Facebook as the default communications medium. Christopher Wylie, the whistle-blower for the Cambridge Analytica scandal, said that, "The internet is part and parcel of democracy now, whether you like it or not … Do we need rules that we as a society agree on, with independent regulators who are on our side, not on shareholders' side?"
So, does Facebook control society? Not really, but it can influence the 'persuadables'.
"You don't need to change everyone's mind, argues Brittany Kaiser, former director of business development at Cambridge Analytica. You just need to change the minds of the 'persuadables.' And the way you identify them is through understanding not just what they buy or say about themselves, but how they think. Through harvesting personal data, Cambridge Analytica could, and did, identify and persuade them." —Vox 2019-07-25
And there is no doubt that our social networks can influence us, as shown in the research Christakis and Fowler did for their 2011 book Connected: The Surprising Power of Our Social Networks and How They Shape Our Lives — How Your Friends' Friends' Friends Affect Everything You Feel, Think, and Do — "As part of a social network, we transcend ourselves, for good or ill, and become a part of something much larger. We are connected."
But Facebook is not an all-powerful entity that is smarter or better than society collectively. Zuckerberg just got lucky, like "a clown car that fell into a gold mine."
Can they [Facebook] prevent you from learning about a local city council candidate by blocking that person from advertising? Absolutely. So absolutely they can swing elections. Can they convince you to vote for someone you know about but don't want to vote for? No. But they can make it so that you never learn about somebody or a proposition that you might otherwise be interested in or dislike or whatever.

So I do think that they have power. I just don't think they're secretly hypnotizing us. I think these people are — I'll use a Zuckerberg quote about Twitter, which is a great quote — "a clown car that fell into a gold mine." —Matt Stoller
The current court actions in the USA against Facebook may be the beginning of the end for this clown show. It cannot happen too soon.
There is a new generation of tools that enriches the toolset of online facilitators. Wow. In this blog I will list a number of them and hope to make you enthusiastic to start experimenting. The first one I discovered was Wonder Me. The first time I used Wonder Me, I was amazed by the different way it made me feel and the freedom I experienced as compared to the normal webconferencing tools. I felt I could "walk around" online by getting close to someone else and I could talk to him or her. A completely different online experience than a Zoom breakout room where you are 'put' in the breakout by the facilitator and hardly dare to leave (I did so today and it was not appreciated :).. If I had too compare it to a face-to-face experience I'd say it resembles the online version of a reception. Then I discovered that a number of nice new tools have been added. The common denominator seems to be that they are tools that change online networking: make it more visual and provide more freedom.
Wonder me
Wonder me

is currently free and you can sign up to get your own Wonder room. However, it will come with paid plan at the end of next year. You can invite people to your own room, and customize the room by changing the background. Your photo is show in the room and can walk around by using your mouse. When you are close to a person or group your videos and audios will work. You can recognize a group of people already talking by a circle. So you can choose how long you stay in a group or walk further. The main facilitator can send a message to anyone, then all conversations will be silenced. You can also 'close' a circle to have a private conversation. The impressive thing is that it works for up to 1000 people, with a maximum of 15 in a circle.
Remo
Remo.co
also gives a lot of control to the visitor to walk around. It is more structured than wonder.me due to its setup with tables with maximum 8 participants. You can choose which table you join, the people who sit at the table will hear a knock at the door. Full is full. You can also add a topic to the tables, so it lends itself well to a World Cafe format. You can try it for free for 14 days, after that it starts from 100 dollars per month.
Videofacilitator
Videofacilitator
works in a slightly different way. You can actually organize speeddating in an easy way, by having people switch to the next person. It therefore gives less control for the participants to choose themselves. However, the feeling is different than in subgroups because you can also see the other groups. You can create a free account to try it out, after that it's $ 30 a month. It may be that there a more possibilities to use it since I only experienced the speeddating process.
Spatial chat
Spatialchat
can be used perfectly for an open space session. You can create different sub-spaces like rooms, and also prepare material for a room, such as a video. The maximum number of participants is 100. It is free up to 25 participants and 3 rooms. Then it starts from $ 49.95 per month
Topia
Another nice one is Topia. You can add a picture to your own space. Personally, I was not able to try Topia because I had to set a hardware configuration in my Chrome browser and Firefox is not supported. Maybe more for the future? Topia is free for up to 25 people, then $ 29 per month.. Anybody with experiences?
Gather
Gather is also making the videocall experience more visual. However, the design is somewhat reminiscent of the (old) world of the pacman. Free for 25 people. Nice that you can start a town, city or metropolis.
Getmibo
Getmibo is more for fun. As they phrase it on their website "for informal meetings, remote drinks, social mixers, networking events, or just hanging around". You can walk around an island and your head is the webcam. Free up to 12 people, then 49 euros per month. Until recently, Getmibo was called Borrel. They have changed the name because it can also be used for more than just drinks, for example as a network option at an online conference.
These tools are a great asset to me. What they have in common is you have more freedom to "walk around" and meet each other online. They are more visual than Zoom, Webex or Microsoft Teams. You don't need a login and you can start a room. They are not going to replace the existing webconferencing tools, but they do provide opportunities to come together online in a different way and thus new possibilities for the online facilitator.
In a project based organisation, project managers bear much of the accountability for KM within the projects.
KM within individual projects, and
KM across and between the projects.
Any project based organisation needs to consider both dimensions, and to make sure the correct
roles and accountabilities
are in place in both. Below is something I recently found in my files which I think is a nice description of the
KM accountabilities in the domain of projects and programmes.
The project/programme manager carries single point accountability for KM activity at project/programme level. This includes accountability for:

Identifying knowledge deliverables for the project/programme consistent with those required by the organisation;
Ensuring that required knowledge deliverables are created and shared appropriately;
Ensuring the team(s) seek and re-use existing organisational knowledge wherever appropriate, and
Ensuring that appropriate KM processes and systems are in place for the project to manages its own tacit and explicit knowledge though the life of the project;
Ensuring that required KM activities are included in the project/programme plan and resources assigned accordingly; and
Monitoring to ensure the required KM activity is taking place.
A programme manager can, if required, delegate accountability for KM within component projects to the relevant project managers, while still retaining accountability at programme level.

A project manager can, if required, delegate accountability for KM within component sub-projects or workstreams to the relevant sub-project or workstream managers, while still retaining accountability at project level.

Responsibility for specific KM activities can be delegated within the project team as needed.

In larger projects the project manager can consider assigning KM coordination duties to a named individual e.g the project controller, project risk manager, project quality manager or project services manager.

Project/programme performance against KM requirements will be assessed at stage gates as part of the project/programme review process.

Use of a project/programme knowledge management plan may be considered, to aid monitoring and clarify KM responsibilities and activities at project/programme level.
The risk of loss of the status quo can be a powerful disincentive for change, and can be a powerful factor working against knowledge management implementation.
There is a very apt quote from Machiavelli (The Prince, 1532), which applies to Knowledge Management as it does to any change initiative:
"There is nothing more difficult to take in hand, more perilous to conduct, or more uncertain in its success, than to take the lead in the introduction of a new order of things, because the innovator has for enemies all those who have done well under the old conditions, and lukewarm defenders in those who may do well under the new."
As Machiavelli points out, the status quo is a powerful factor. Introducing something new, such as KM, disturbs the status quo without yet providing anything tangible to replace it. Sometime in the future Knowledge Management will deliver rewards, but people are always more unwilling to lose tangible benefits in the here and now, in return for potentially bigger but intangible benefits in the future.
This is known as "loss aversion".
Wikipedia tells us that in economics and decision theory, loss aversion refers to people's tendency to strongly prefer avoiding losses to acquiring gains. Most studies suggest that losses are twice as powerful, psychologically, as gains. This is reflected strongly in Machiavelli's quote.
Implementing KM involves change, all change involves loss, and all loss leads to aversion. Therefore you will make enemies of anyone who sees that they will lose something - power, prestige, profile - as knowledge management is introduced.
Elon Musk, as reported on the
Farnham Street blog
met a similar loss aversion from the regulators when proposing a re-usuable space rocket.
"There is a fundamental problem with regulators. If a regulator agrees to change a rule and something bad happens, they can easily lose their career. Whereas if they change a rule and something good happens, they don't even get a reward. So, it's very asymmetric. It's then very easy to understand why regulators resist changing the rules. It's because there's a big punishment on one side and no reward on the other. How would any rational person behave in such a scenario?"
So how do we tackle loss aversion when implementing Knowledge Management?
Wherever possible, we make a case for change by maintaining that the status quo is undesirable. Maybe not sharing knowledge, or not learning from others, can be shown to put the profitability of the organisation at risk. Maybe failing to retain knowledge means that in 5 years time the organisation cannot compete.
Secondly we paint a picture of the KM-enabled future. We do this through proof of concept activity and piloting, so people can see for themselves how KM works, and can hear from their colleagues about the benefits it brings.
These two approaches allow people to re-set the loss aversion equation, by reducing the value of the status quo and increasing the tangibility of the KM future. This makes it safer for people to make the change.
Every fortnight I curate some of the observations and insights that were shared on social media. I call these Friday's Finds.
"If you have selfish, ignorant citizens, you're going to get selfish, ignorant leaders." —George Carlin
The Lesson We Should Have Learned From 2020 — But Haven't by @umairh
What is the thing the East had that the West didn't — that made all the difference in fighting Covid, much more so than money and resources and so forth? Sociality. Social cohesion. Social bonds. Trust, relationships, ties. An economist might call that "social capital." You can use that term if you want — I won't, because, like I said, this lesson goes so, so deep that I want to take pains to really explain, and you can tell me if I succeed.

What the East was able to do was cooperate as societies to fight Covid. And it turned out that you couldn't beat Covid without cooperation at the largest scale — the social scale. The scale of a city or town or block just wasn't enough. And it was because it enjoys significantly higher levels of sociality that the East was able to — as we say in the West — "pull together" and beat off Covid.
The Pandemic Heroes Who Gave us the Gift of Time and Gift of Information by @zeynep
Still, as the good news from these vaccines rolls in, we should remember and celebrate the gift Dr. Zhang and his team gave us, perhaps the most important ones for fighting a pandemic: the gift of time and gift of information. Dr. Zhang acted without being incentivized by the huge amounts of money that the companies will receive — Moderna's stock has increased almost 700 percent already — and he faced down potentially catastrophic consequences for himself and his lab.

For many years, we will be analyzing the failure of many governments and our institutions in their responses to this pandemic. But the successes are real, too. More than anything, we should also remember those who bravely stepped up when it counted: the healthcare workers and the researchers around the world—starting with Professor Yong-Zhen Zhang and Doctor Li Wenliang of China.
Yale: Study Shows Which Restrictions Prevent COVID-19 Fatalities—and Which Appear to Make Things Worse
In other words, across multiple analyses, Spiegel and Tookes identified a fairly consistent set of policies that seemed to help (mask mandates, closing restaurants, stay-at-home orders, limiting gatherings to 10 people) and a fairly consistent set that seemed to hurt (closing low-risk businesses, limiting gatherings to 100 people). Other policies, including closing schools, appeared not to affect fatality rates either way.

Spiegel and Tookes are continuing to collect data and hope to refine their results in the future. One big unanswered question is how different policies interact with one another. "It might be that as long as everyone's wearing masks, a given policy is less effective," Tookes says.

What might this mean for policymakers? The data suggests that closing certain businesses can reduce fatalities, but "we all know there are other costs," Tookes says—and what's worth it depends on context and priorities. "Our goal wasn't to prescribe a particular policy, but to help inform the decisions."
We Have No Idea What Happens Next via @timkastelle
But everyone in the world has suddenly been exposed to problems they had never seen before. They've become aware of new risks. New constraints in how they live, work, and play. A whole new set of perspectives on how to keep your family safe, run a business, and use technology.

Some of the changes that will bring are obvious. We're already better and faster at creating vaccines than we were a year ago. Doctors are more knowledgeable. Remote work is more efficient. Travel is less necessary.

Then there's a second tier of change: perhaps using our new knowledge of mRNA vaccines to treat other diseases, like cancer. It seems likely, but who knows.

Then there's the big unknown: the crazy, disconnected, counterintuitive change set in motion this year that we'll only be able to piece together in hindsight. The kinds of things that only happen when seven billion people have their lives thrown upside down, experience a bunch of stuff they'd never imagined, and are either motivated or forced to do something completely different than they had considered in January.

No one should even guess what that might be. The unpredictability is the point.
Online disinformation and the EU's response
Fake news' and disinformation – information deliberately manipulated with the aim of fooling people – have become an increasingly visible global phenomenon. Social media and their personalisation tools have made it easier to spread bogus stories. They often use emotions to capture attention and generate clicks, for economic or ideological reasons. Even young, digital-savvy people find it difficult to identify manipulated news. Significantly, six in ten news items shared on social media were not even read first by the user who shared them. Some 85 % of Europeans see 'fake news' as a problem in their own country, and 83 % view it as a problem for democracy in general. This compass will help you navigate the ocean of information, and find your way through waves of lies and disinformation.
Knowledge Management has been a key factor in easing the demographic gap as older retiring oil-sector workers gave way to younger counterparts.



At the beginning of this century, the oil sector realised it was was facing a crisis of both manpower and knowledge.

During the boom years of the 1970s and 1980s the oil companies had grown rapidly, hiring vast numbers of engineers and geoscientists of the baby boomer generation (myself included). Then came the oil price shocks of the late 1980s and 1990s, and hiring ground to a halt. The demographic plot of most oil companies showed a single hump - a superabundance of middle aged professionals all due to retire at round about the same time. Others who had restarted hiring showed two humps - staff in their 50s and staff in their 20s - with nobody in the middle.

There were therefore two challenges facing the sector:
to hire younger staff to fill the gap the retiring boomers would leave, and
to transfer knowledge and experience from older to younger.
Together, these issues became known as "the Great Crew Change".
This article from the Journal of Petroleum Technology (entitled "After Years, 'Big Crew Change' Has Passed, But Learning, Training Challenges Remain") was written in 2017 when the crew change was largely over, and describes how it was addressed (quotes below in italics are from the article)
The industry adapted to need fewer staff. Technological changes have led to greater efficiencies.
Hiring policies were successful - "the current age distribution is more balanced than in the decade following the mid-1980s price collapse - professionals in their late 20s to late 30s are the largest segment of the workforce (but) this is less of a peak than in the past; in 1994 it was bigger"
The companies recognised that knowledge transfer would be imperative - "We've finished the head count, so we have to make sure we finish the head content. The first one is easy, the second one is hard."
Knowledge management tools help younger staff to up-skill - "The industry has embraced and expanded the use of learning-, competency-, and knowledge-management tools - learning and training can proceed with greater speed and efficiency - the time to competency is lower than it was in the past"
Some of the older retiring staff kept working as consultants, brought in for their knowledge and experience - "Consultants experienced with similar technology on analog fields can share lessons learned and best practices that may save the project team time and resources"
There has been a real focus on knowledge retention as older staff leave - "there has been a focus at Halliburton and other com­panies on capturing the experiential knowledge of senior professionals before they leave the company workforce. That experience has been captured through [online] knowledge portals and communities that we've been using since the early 2000s"
Through all of these methods, the oil sector appears to have weathered the Great Crew Change better than was initially feared.
The difference between Knowledge Sharing and Knowledge Management lies in three words - systematic, routine, strategic.
Quite often we find clients who don't like the term "knowledge management" and prefer something like "knowledge sharing" instead.
Often this comes from the assumption that "knowledge management" means "the management of knowledge", and that knowledge, being intangible, is incapable of management. We already know
this is not a sound reason
to avoid the term, as "knowledge management" can also mean "knowledge-centred management" or "management with knowledge as a focus", and there are plenty of intangibles with their own management systems.
Knowledge sharing is also only part of knowledge management, which also includes knowledge seeking, knowledge synthesis, knowledge creation, knowledge re-use etc.
However there is another difference between the two, a difference which justifies the use of the term "Management", and a difference that can be summed up in three words.
Systematic
Knowledge Management should be part of
a joined-up management system
- not relying on ad-hoc use of a tool, or selection from a toolbox, but a systematic approach and the application of a full framework.
Routine
Knowledge Management should be
embedded
into the routines of work, rather than being an occasional add-on, or something separate. It should be a component of the work cycle.
Strategic
Knowledge management should support the business strategy, should focus on
strategic business knowledge
, and should have a clear line of sight to the strategic business drivers (as in
this excellent example from Oxfam
).
If you are approaching the way knowledge is created, discussed, shared, synthesised, stored, sought and applied, in this way -
systematically, routinely and strategically
- then you can justifiably use the word Management to describe what you are doing.
Internal company search seldom works as well as Google, because so few people optimise the findability of their content.
Image from Wikimedia commons
People often cite Google as the gold-standard in search, but partly Google works so well because of the prevalence of search-engine optimisation in the World Wide Web. Anyone who uses the web as a market place or a means of making publications available, knows about the issues of Search Engine Optimisation. And if you own a website, you probably receive 10 emails a day from people offering to improve your SEO ranking.
As far as internal sites on the Intranet are concerned, there probably is little thought given to optimising search. Metatags may be missing,
document titles may be poor or unhelpful
, documents may be filed in unhelpful ways (see my post on "
a haystack is no place to store your needles
"), and the whole issue of
findability
is often ignored.
I remember in the mid 90s when BP introduced their first Intranet, and the manager of BP Norway (my boss at the time) set up a BP Norway home page. It went live, and the next day we went onto the Intranet, typed in the search term "BP Norway", and .......... got no results!
It turned out that the words "BP Norway" only ever appeared in banner graphics, which had no Alt tags (I don't know if this was even possible at the time) and were therefore invisible to the search engine. Therefore this whole site had become unfindable, or search-engine-impaired.
Part of the role of the
Knowledge Management team
, in any organisation that makes extensive use of codified knowledge combined with search, is to educate the owners of the knowledge stores about how to ensure findability and about the need for optimising codified knowledge for the internal search engine.
Maybe in this way we will get a little closer to Google.
The surge in remote working triggered by Covid lockdowns is exposing the need for Knowledge Management, especially when it comes to tacit knowledge.

That is the argument of an interesting article from the Irish Times entitled Covid taking a toll on companies' reservoir of workplace knowledge, which claims that remote working during Covid has not harmed short term productivity, but has stifled longer term innovation.

The article is based on work by Prof Claire Gubbins from Dublin University, which compares what's happening during the pandemic with knowledge loss after the 2008 recession. According to Gubbins;
"We know that between 70 and 90 per cent of learning in the workplace occurs through what people experience on the job and informally. This is because 90 per cent of the knowledge on which performance in real-world settings is based is tacit knowledge or knowledge that is not on paper or in manuals, but embedded in people's heads.
"During the post Celtic Tiger recession, organisations lost vast amounts of this tacit knowledge and suffered noticeable consequences. What's happened (now) with remote working is that people with valuable tacit knowledge are no longer co-located and there is no informal access to the traditional social interactions at work that enable sharing and thus learning. Tacit knowledge is central to organisational competitiveness. Without it they suffer."
The article also draws on a study by Microsoft (which they do not reference) which suggests that workplace productivity has not suffered due to remote working, but that innovation has suffered. Professor Gubbins relates this to the lack of informal tacit knowledge transfer when people are isolated at home.
"These findings are not surprising because innovation is grounded in social interaction and a combination of tacit knowledge sharing and new learning. The statistics show that formal training cannot replace that which is learnt informally and with increased remote working, social distancing in the workplace and fewer people in the office, the opportunities for these learning behaviours have been significantly reduced. Organisations need to be aware of this".
This of course is a tough situation. The informality of being side-by-side or face-to-face with a co-worker cannot be replicated at home. Interactions have to be mediated by technology, and have to become more planned and formal. Tacit knowledge transfer becomes something which has to be more planned and structured.
They key must be to program in these more social and tacit interactions, even if it is just a morning online catch-up which can spin off into side conversations. I certainly find I have my best conversations after scheduled zoom calls, when a couple of people stay on the line and chat. However there may be other approaches, for example:
providing newer staff, who do not have wide networks to call on, with defined mentors who can check in with them on a regular basis;
building communities of practice;
rationalising the channels for knowledge sharing, so people are not confused which channel to use;
appointing KM focal points in teams and departments, who can act as knowledge brokers.
The key is to recognise the risk, and do what you can to mitigate it.
Here's how the Tata group uses KM as a core pillar of their group-wide excellence model

The Tata Group is an Indian multinational conglomerate, and one of the biggest and oldest industrial groups in India. The group uses an annual assessment against the TATA Business Excellence Model (TBEM) as an part of their organisational management practices. They claim that "the Business Excellence Assessment process has been critical in strengthening the strategic and operational capabilities of Tata companies since its inception".

You can find images of the model here. It is akin to the Baldridge Model, and contains the following 7 main elements:
Leadership
Strategic planning
Customer/Market focus
Measurement, Analysis and Knowledge Management
Workforce focus
Process Management
Results
These elements are linked to Tata's core values, which include "continuous learning". Where one organisation in the group shows particular strengths, it shares its good practices with the rest of the group to help them improve their own capabilities, and this is as true of Knowledge Management as it is of the other elements. The TATA business excellence site for example quotes workshops where TATA steel has shared good KM practice with the group, and where TATA Metaliks held a peer assist to learn from the KM approaches of other TATA organisations. These and over 600 other best practices are shared in the EDGE Best Practice portal.
Through application of this model, the TATA group has shown a continuous improvement in their TBEM score over the last 25 years which has driven an improved focus on continuous improvement, process orientation, informed decision making, and measured risk taking.
It's great to see KM taking an integral part in such a powerful excellence program.
In one of my first projects as a freelancer 17 years ago, I was brought into an existing client relationship with a hospital network. Our team had been contracted to develop an e-learning program for nursing staff. I was able to negotiate a 'confirmation of the analysis', as I had not been involved in the design process. I was given two days to interview staff on various wards. As I was not hospital staff I was accompanied by the senior nurse.
We learned a lot during those visits to the wards, and even had some procedures changed on the spot as the senior nurse became aware of some unnecessary redundancies. As a result the e-learning program was cancelled and we developed a few performance support tools and some job aids instead. Training was not the solution to this challenge — getting the right information to trained and experienced nurses was.
On completing my hospital visit I thanked the senior nurse for her help. In turn she thanked me for the opportunity to make her first visit to the wards. I asked how long she had been at this hospital. Two years she responded. I said nothing but was shocked that the person in charge of clinical nursing had never been to the workplaces of the people she was supporting. How many other managers in how many workplaces are in the same situation?
In our small town of 5,000 people, the local hospital was going to be closed. Last year the CEO of the health network met with protesters to explain the reasons for the closure. She was asked how we would support the needs of our students. The CEO did not understand why this would be a problem. It was explained that we are home to a university with about 2,000 students in residence. These are in addition to our official population count. The CEO did not know this.
The university was established in 1839 and has been the top ranked undergraduate university in the country for several years. But the CEO had spent her years in the job in the Provincial capital, 200 kilometres away. In a province of 780,000 people it is not a major challenge to visit every city and most of the larger towns. The CEO could not be bothered to learn about the communities she served.
The idea of 'leadership by walking around' seems to have disappeared. But in complex systems, a degree of understanding is needed by people in leadership positions. It cannot come just through the chain-of-command.
"There is a limit to how much honest feedback most leaders really want to hear; and because we know this, most of us sugar-coat our opinions whenever we speak to a powerful person. In a deep hierarchy, that process is repeated many times, until the truth is utterly concealed inside a thick layer of sweet-talk." —Adapt: Why success always starts with failure
Getting managers out of their offices is a low-tech method that can reap major business benefits. Incorporating this mindset into the use of social media then increases the speed of access to knowledge and provides a reality check. Have you been out of your office — real or virtual — lately?
It's not often you see Knowledge Management mentioned in the annual report of a large organisation. Here's why it's in the Rolls Royce report.

Company annual reports are documents that public companies prepare for their shareholders, to tell them the current state of finances, outline activities and plans, and reassure them that the organisation is being managed well. The front part of the report is often a set of glossy photos and narrative about activity, while the back part contains tables of financial and operational information.

So why would an organisation mention KM in their annual report?

The answer is that they would mention it to assure stakeholders that they are managing the business well, and that KM is one of their governance tools.

There are a few mentions of KM in annual reports (ENI regularly mentions it in the contexts of risk management and operational excellence), but what I particularly like about the Rolls Royce example is the way they tie KM to a major business imperative.

The Rolls Royce annual reports contain a section and a table on major business risks and their mitigation, and within this table we find the following:
PRINCIPAL RISK
HOW WE MANAGE IT
MAJOR PRODUCT PROGRAMME DELIVERY
Failure to deliver a major programme on time, within budget, to technical specification or falling significantly short of customer expectations, or not delivering the planned business benefits, would have potentially significant adverse financial and reputational consequences, including the risk of impairment of the carrying value of the Group's intangible assets and the impact of potential litigation.

Major programmes are subject to Board approval.
Reviewing major programmes at levels and frequencies appropriate to their criticality and performance, against key financial and non-financial deliverables and potential risks throughout the programmes lifecycle.
Investing in facilities and people to manage the level of disruption to our customers from Trent 1000 in-service issues and developing longer-term solutions to these issues.
Conducting technical audits at pre-defined points which are performed by a team that is independent from the programme.
Requiring programmes to address the actions arising from reviews and audits and monitoring and controlling progress through to closure.
Applying knowledge management principles to provide benefit to current and future programmes.
The message to investors therefore is that Knowledge Management is a tool in use at Rolls Royce to secure the delivery of major programmes and projects, both current and future.
That's a good way to clarify the value of KM to the business, and to reassure shareholders that their investment is being managed well.
In my PKM workshops we discuss the differences between communities and networks. This includes the dark sides of communities as well as the constant doubt and outrage on social media. My general advice is to seek diverse perspectives in social networks but to seek more private, trusted communities for deeper conversations and understanding.
I use Twitter to show how to seek new ideas and opinions by selecting who to follow to create human knowledge filters. The list feature on Twitter is useful in following specific topics and fields. Following, or muting, certain hashtags can also refine what you find on Twitter.
The best feature of Twitter is that you do not have to follow people who follow you. The relationship is asymmetric, just like blogging. In addition, you can still set your stream of people you follow to "see latest tweets first" so that the Twitter algorithm does not decide for you. Of course you have to constantly switch to latest tweets, as Twitter prefers to feed its algorithm to you. Twitter is not your friend. You don't have to be on Twitter, but I still find it a useful platform for teaching about online social networks. There are also, for now, third-part applications for Twitter, like Tweetbot.
Dr. Natalie Ashton, a philosopher at the University of Stirling, states that Twitter is useful for seeking marginalized voices — Why Twitter is (Epistemically) Better Than Facebook
"On Twitter I only need to click the follow button for my feed to be regularly updated with another user's posts. They don't typically need to agree to this, and they won't automatically see my posts as a result. This one-sided mechanic allows users to connect with a wide range of people they'd be unlikely to encounter otherwise, and is much more conducive to elevating marginalized voices."
But Dr. Ashton goes a bit far in stating that Facebook can be a place for 'epistemic respite' because, "On Facebook, interactions mostly take place among mutual, symmetrical friendships". Facebook is not a useful platform for teaching, other than to show that its insidious algorithms are designed to manipulate behaviour. Facebook is not a community because you cannot trust the inherent design of the system. You see what the algorithm wants you to see and you are constantly under surveillance. This is not a community platform. It is a place for Facebook to find and sell access to 'the persuadables'.
"You don't need to change everyone's mind, argues Brittany Kaiser, former director of business development at Cambridge Analytica. You just need to change the minds of the 'persuadables'. And the way you identify them is through understanding not just what they buy or say about themselves, but how they think. Through harvesting personal data, Cambridge Analytica could, and did, identify and persuade them."
I belong to several online communities. They are on platforms controlled by the community. For example, the perpetual beta coffee club is on a private WordPress site. I monitor all conversations but the community of about 90 people is self-policing. We have a monthly Zoom call which is recorded but the recording is deleted after a couple of weeks. I do not want these conversations to sit around for a long time and perhaps be taken out of context. We have nothing to hide, but we do not have to share our conversations with the world.
Networks are not communities. Communities are trusted spaces run by and for members. Facebook is not a trusted space.
Knowledge changes, and knowledge of some topics changes faster than others. This has massive implications for knowledge management.
Image from wikimedia commons

Knowledge is not static. It changes and develops over time.
It has a half-life
, and that half-life seems to be shrinking as the world speeds up.
Old knowledge becomes obsolete - it turns into
General Ignorance,
and needs to be replaced by new knowledge. Knowledge evolves. It has to be overwritten.
Therefore if we are thinking of storing knowledge somewhere, we need to store it in a place that allows it to evolve. Storing knowledge in documents is not a great idea, unless you can easily overwrite those documents. I don't mean just saving a new version, I mean removing the old versions as well. Otherwise a search may bring up old versions as well as new, and the reader has to do a sorting job to find out which version is relevant. There should only be one version of knowledge - the current version, which is constantly under development.
This is particularly true with knowledge that is evolving rapidly, and which has a very short half-life. Here it is much better to store knowledge in a wiki, which can be constantly updated and overwritten.
For knowledge with a short half-life -
Focus on rapid learning
Connect people into communities of learners
Use tools like blogs and wikis to document the learning
Write lessons learned into the wiki or the blogs
Expect the wiki to change weekly or monthly
Be prepared to overwrite old knowledge as new knowledge becomes available
For knowledge with a long half-life, which is pretty well established -
Focus on providing access to the established knowledge resource
Connect people into communities of users
Use documents, manuals, standards, work instructions and reference sites to store the knowledge
Write lessons into a lesson management system
Expect the knowledge base to change slowly
Apply a good management of change process before overwriting old knowledge.
For knowledge with a moderate half-life, we need a blend of the two approaches above;
Focus both on development and provision of the knowledge
Connect people into communities of practice which both learn and apply the knowledge, and who can both develop and provide it
Use a wiki, but link to standards and established practices where needed
Write lessons into a lesson management system, and ensure this rapidly moves new lessons into the body of knowledge
Expect the knowledge base to keep changing
Depending on the rate of change of the knowledge, you may need to use one of the three approaches above.
In 2006, the World Health Organisation published a regional KM strategy for Health in Africa. This suggested approach for developing a regional KM strategy could potentially be used in other political contexts.
Knowledge Management is not just for industry or for individual organisations; it is also of value politically and regionally. The concept of the Knowledge Economy, for example, is recognition that knowledge is an asset to countries and to regions.
However if we move away from finance and into the realm of Health, there is a much clearer view of how KM can help governments and regions perform better.
The WHO strategy linked in the header does just that, and sets out a set of steps whereby KM can be improved in countries and regions. The result should be better performance in knowledge-based work; including health, but also including other knowledge work - the sort of work that supports a knowledge economy.
The steps proposed by the WHO are as follows. My commentary is provided in bold.
Priority interventions
Advocacy. Knowledge Management for health should be promoted by policy-makers at the highest level of government and by international and regional development partners. This should apply to other contexts as well. Eg in a knowledge economy, economic KM should be promoted by policy makers. In a safety context - safety KM. etc,
Data and evidence generation. A situation analysis of KM at regional and country levels through surveys and special studies should be performed and regularly updated. Such analyses should generate evidence; identify best practices; consider explicit, tacit, community-based and traditional knowledge; and locate available expertise. This can also be done in other contexts.
Development of policies and plans. Country-specific policies and plans should be developed for further progress in KM and to ensure that KM is embedded across the health system, including all programmes and projects. This can also be done in other contexts. If a country or a region has plans to develop a knowledge economy, then this needs to be set into policy. We see this to some extent in the Science, Technology and Innovation policy in the UAE, and similar innovation policies in the Middle East.
Setting of standards and norms. Appropriate norms, standards and regulations are the key for sustainable progress in KM, especially in e-Health and telemedicine. They should be based on the best international practices and adapted to the national context. Now we have ISO 30401:2018, the setting of standards and norms for KM will be much easier.
Capacity-building. Capacity concerns three main components of KM: people's skills and behaviour, managerial processes and technologies. The key approaches to be implemented include training and continuing education, staff incentives, institutional mechanisms and effective use of ICT infrastructure. This is definitely needed.
Fostering partnerships and mobilizing appropriate resources. The global momentum in favour of Knowledge Management and Information Technology development created by the WSIS and other international and regional initiatives should be actively used for building strong partnerships at country and regional levels, and for mobilizing adequate resources for KM.
Effective knowledge generation, sharing and application. Countries and all stakeholders should foster Knowledge Management across health systems for health development and equitable health outcomes. KM, including learning, sharing and application, should be an integral part of the managerial culture in health sectors and systems. Special attention should be given to health and health-related tacit, traditional and oral knowledge, particularly in rural areas. This includes extensive use of mechanisms such as communities of practice and ICT-assisted tools. KM should be strongly associated with health information systems, health research and human resources development. And of course all of this is true of other contexts, not just health.
In previous blog posts on the knowledge economy I have already suggested training and the application of standards, and also suggest that knowledge-related tax breaks and government advisors would be useful as well.
If countries and regions are serious about knowledge as a resource to drive a knowledge economy, then then the 7 suggestions above from the WHO can be used as a blueprint for policy makers.
In March [making sense of our digital world] I wrote that my own understanding of the COVID-19 disease started with centres of networked expertise — WHO, CDC, Public Health Agency of Canada. By September [connecting knowledge] I wrote that I see information from the WHO and CDC as lagging indicators, and no longer my first stop to find out what is happening now.
I should have known better and gone back to some of my earlier understanding of sensemaking in complexity and chaos. These formal organizations are hierarchical and bureaucratic. They have institutional blinders. According to Mark Federman, "Organizations are made too complicated in response to complexity." That complication blurs our vision.
To understand our current situation we need to move to the edge or find others who are there already. As Kurt Vonnegut wrote — "I want to stand as close to the edge as I can without going over; on the edge you find things you can't see from the center." On the edges the answers may not be clear, but they are less obscured than in the centre.
People on the edge mostly do not work for the likes of WHO, CDC, or PHAC.
In March, people on the edge like Trish Greenhalgh were advocating non-medical masks for all.
Many months ago, people on the edge like Michael Mina were pushing for rapid at-Home COVID Testing for all.
This Summer, people on the edge like David Fisman were warning that keeping indoor establishments open in Ontario into the Fall would be disastrous — it is.
We would be in a much better situation today if our decision-makers and policy influencers had better connections to the edges of their fields, especially where they overlap with other disciplines.
If you work inside an organization in any professional capacity then engaging with the edges of your expertise is a critical skill. Everyone should be the eyes and ears of the organization. As they say in software development — given enough eyeballs, all bugs are shallow. In our complex and sometimes chaotic world, we cannot say it is not our job to engage outside our daily tasks or that it is 'beyond our pay-grade'. If this pandemic has shown us anything, it is that we are all in this together and will all suffer the consequences of  silo thinking.
To work in any complex field, we need to be connected to loose social networks which provide us with a view of the frontiers of our knowledge. We then need to actively engage in communities of practice to develop better understanding and knowledge among our peers. Only then can we truly contribute as members of teams working in a complex environment. Connecting these three spaces requires a new network literacy — personal knowledge mastery.
Here is the rest of the Vonnegut quote.
"You think I'm insane?" said Finnerty. Apparently he wanted more of a reaction than Paul had given him.
"You're still in touch. I guess that's the test."
"Barely — barely."
"A psychiatrist could help. There's a good man in Albany."
Finnerty shook his head. "He'd pull me back into the center, and I want to stay as close to the edge as I can without going over. Out on the edge you see all kinds of things you can't see from the center." He nodded, "Big, undreamed-of things — the people on the edge see them first." ―Kurt Vonnegut, Player Piano
Let's not stay stuck in the centre of our bubbles, let's get out to the edges.
Here's a great example of a Knowledge Asset created to fill a critical knowledge need.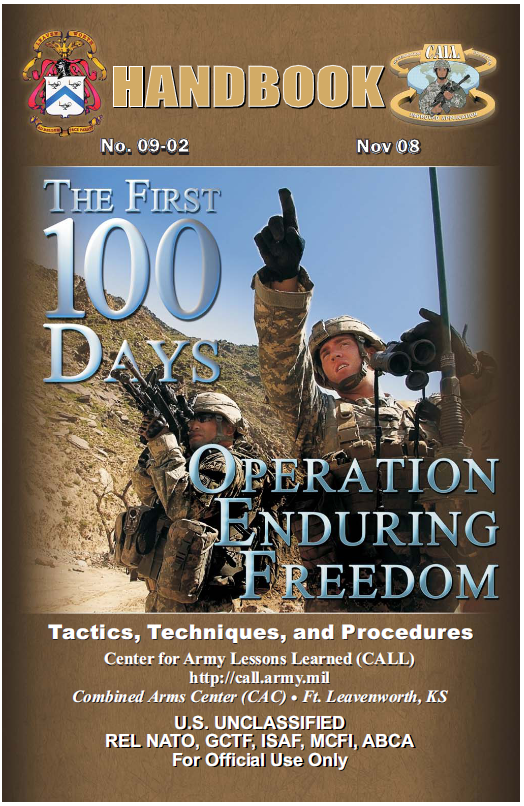 Sometimes a KM team needs to take the lead in creating (or facilitating the creation of) a knowledge asset to fill a knowledge need. This is an example from the US Army where this was done; the Handbook called "The First 100 days".
The Center for Army Lessons Learned (CALL) is the Knowledge Management wing of the US Army, tasked with developing knowledge from operations and embedding it into guidance, training and doctrine. During the U.S.-led combat mission in Afghanistan from 2001 onwards, CALL recognised that the first 100 days of deployment were the most dangerous for soldiers and their leaders, and the time when they were most vulnerable. Knowledge of how to survive this time was held by the troops already on the ground, so CALL set out to make this knowledge available to those would would join them; creating the "First 100 days" handbook in 2008.
The handbook describes the process as follows:
"CALL's task was to get the Soldiers' and leaders' perspectives and insights from their first few months of combat and determine why they survived and what factors contributed most to their survival. CALL wanted information straight from the Soldiers, in their own words. From that information, and with analysis and writing by subject matter experts, CALL developed the First 100 Days series of handbooks for Soldiers, small unit leaders, and commanders and staffs".
The series of handbooks were amalgamated into a single handbook which is
now available here
(and from many other sites).
The handbook is structured around the main topics, and is written as concise advice, checklists and guidance. As the book says, soldiers should
"Use this handbook to sharpen your focus (whether you are a leader, a Soldier, or a staff member) from pre-deployment through the initial 100-day period. Rather than telling you what to do, this handbook helps you assess a situation and identify ways to survive those first 100 days unscathed by combat and noncombat injuries or worse. Keep in mind that you and your unit may need to revisit the "100 Days" in part or in its entirety when shifting to a new operational area or with a change of mission.".
Lessons for the knowledge manager
Unless you are a soldier, this handbook is unlikely to be of much direct use to you, other than as a case study. However the principles are universal:
Analyse your organisation to see where the main knowledge risks are, and the main "learning curves" for the individuals and the organisation.
Discover where that knowledge currently resides.
Facilitate the transfer of that knowledge. If the number of people involved is small, this can be done through face to face conversations. If there are a number of users, and there is a lot of knowledge to transfer (and if they will need to keep referring to it) then consider writing it down.
If they will need the knowledge when out of reach of technology, then print it. If they will always be connected, then you can store it online, for example in a wiki (for constant update).
Every fortnight I curate some of the observations and insights that were shared on social media. I call these Friday's Finds.
"In the past every village had an idiot, and we could all deal with that. Now the internet is allowing idiots to connect and it is normalising idiocy." —@snowded
"Most victims of suicide are men, Most people in jail are men, Most victims of violent crimes are men, Most victims of murder are men, Most victims of police killings are men; Most shamed for mental health is men." —@birgitta
"One of the biggest differences I discovered: poor folks in Germany realise they are poor and mostly vote for parties advocating for poverty relief measures. Poor folks in the US see themselves as 'temporarily not rich' and vote for policies benefiting mostly the rich." —@LyssasLounge
The fireman of global health: The WHO's emergencies chief is put to the test — 2019-10-30 [read that date]
Climate-mediated natural disasters. Conflict-riven failed states. Massive displacement of people. And, as always in this type of work, expanding human populations, encroaching on the natural habitat from which new disease threats emerge.

"We're not ready," Ryan said. "If we can't stop Ebola" — referring to the ongoing outbreak in northeastern DRC, on the cusp of beginning its 16th month — "what hope do we have of stopping … Disease X? [AKA Covid-19]"
A Twitter thread by David Whitney [which should have been a blog post so I could have just linked to it]
One of the things I see absolutely plague developers is time management.

We've all been there, and we've all seen it:

"too many meetings!"
"I can't get my work done because of all these meetings!"
"I don't feel like I have control over my time!"
Here are a few things I've done to get things done over the years.

1. Diarise your own time.

Your calendar doesn't exist purely for other people to fill your time up. It is yours. You can use it.

During consulting gigs where people bombard you with requests, literally the moment someone asks me to do something, or look at something, I'll block out a slot in my calendar of *at least* one hour to actually do the work and think about the problem.

This:
– Helps you remember to do the thing
– Organises your day
– Stops meetings preventing work

This is a great trick to help set expectations of when people will expect to see results from you and embraces the fact that doing any work takes time and space.

This is perhaps the easiest way to make sure meetings don't get in the way of doing.

2. Politely reject meetings that do not have agendas or stated outcomes.

Many meetings are formless & ineffective, becoming unstructured thought & conversation. All meetings requests should come with either an agenda or an explicit goal.

Help by making sure your own invites do.

3. Leave meetings where you are adding or gaining nothing.

I suspect the biggest cost-waste in most organisations are meetings with passive participants. Respect your own time by observing the law of two feet and politely excusing yourself to get other things done.

4. Be present in the meetings you do attend.

No laptops unless you're taking notes or doing some meeting related activity. It's simple, it's respectful.

If you feel like you have to brain space to do other things, see point 3 – observe the law of two feet and get up and leave.

5. Get into the habit of circulating meeting outcomes

There is no need to minute or notate the vast majority of meetings – but any outcomes – decisions, should be circulated to the exact invite group of the meeting after the fact.

This gives people the confidence that if they cannot attend a meeting in real time because of time conflicts, that they will be able to understand the outcomes regardless.

This is part of the respectful contract that not everyone you wish to attend a meeting, will be able to.

6. Decline meeting invites if you cannot, or do not want to, attend.

To solidify the human contract that people will circulate conclusions and communicate effectively, you need to let people know if you're not coming.

You don't have to tell them why, but it'll help them plan.

7. Don't miss mandatory team communication meetings.

There's a pattern of fatigue that develops when meetings start to feel rote or useless. Don't respond by not attending, respond by "refactoring your meetings".

Discuss cancelling pointless recurring events to free up time.

8. Schedule formless catchup meetings

It's easy for meetings to devolve into chatter, especially in 2020, where we're all craving human contact. Set meetings up with this goal.

A social meeting is not a crime, it's optional, and people that are craving contact will thank you.

9. Consider doing work in meetings rather than talking about it.

Many meetings can be replaced with mob programming sessions, where you do the thing, instead of discussing it.

Doing the work is the best way to know if it's right & valuable.

Prefer this format where possible.
The video below is a product of the Olympic Games Knowledge Management program, as part of their methodology for transferring experience from one organising committee to another.
The 27-minute video is introduced here, and was created during the Rio Olympics to describe the work of press photographers at the Olympic games. It won the prestigious Candido Cannavo Award at the Milan Sport Film Festival 2018. That's pretty good for a KM product!
If you have 27 minutes to spare, it's a thrilling watch.
If leaders are to empower their knowledge workers, they have to let go of "always having the answer"
The book "
It's Your Ship: Management Techniques from the Best Damn Ship in the Navy
" tells how Captain Michael Abrashoff took command of the USS Benfold and turned it from being the worst performing ship in the fleet, to the best.
One key factor he mentions is familiar to all of those wishing to instil a
Knowledge Management culture
, and that is the willingness of leaders to let go of the "need to know all the answers", and to start to make use of the knowledge of the organisation.
As Abrashoff says
"Officers are told to delegate authority and empower subordinates, but in reality they are expected never to utter the words "I don't know." So they are on constant alert, riding herd on every detail. In short, the system rewards micromanagement by superiors— at the cost of disempowering those below.....
"I began with the idea that there is always a better way to do things, and that, contrary to tradition, the crew's insights might be more profound than even the captain's. Accordingly, we spent several months analyzing every process on the ship. I asked everyone, "Is there a better way to do what you do?" Time after time, the answer was yes, and many of the answers were revelations to me.
"My second assumption was that the secret to lasting change is to implement processes that people will enjoy carrying out. To that end, I focused my leadership efforts on encouraging people not only to find better ways to do their jobs, but also to have fun as they did them".
What Abrashoff discovered was the difference between managing knowledge workers, and managing manual labourers.
Knowledge workers generally know more about their work than their boss does.
They use knowledge to make decisions and take actions on a daily basis, and they know what works and what doesn't. The manager's role is not to be the arbiter of those decisions, even less to be the decision maker, but to empower and enable the knowledge workers with the tools they need to get the right knowledge to make the right decision. Often the right response from the leader is "I don't know the answer - why don't you go find out what others do, and learn from them".
This empowerment, and this leadership move from being a Knower to being a Learner, are components of
the culture shift
that KM brings about, and which in turn liberates the knowledge, and also the performance, of the whole organisation. This cultural shift
may be harder in some national cultures
than others. However the message is clear -
If you are managing knowledge workers, you need to let go of "always having the answers".
With the exception of France, where a "collaborateur" is still a dirty word, the concept of collaboration is usually seen as a very good thing. When people cooperate and collaborate across borders and organisational divisions, we expect good things to happen.
But as with most generalisations, this is only partially correct.
I have already reported
how Haas and Hansen, in a study of a large services firm, identified cases where collaboration helps, and other cases where collaboration hinders success. Not all collaboration is good - some of it is a waste of time or creator of unneeded confusion.
As this blog suggests
- we need enough collaboration - neither too much nor too little, and
collaboration may have become a fad
.
Certainly one of the issues is the proliferation of communication channels, many of them real-time. A study quoted in the Chanty blog article suggests that the average worker uses 4.5 different tools to collaborate on project work, and a third of people answered that "everyone uses different tools". One of the tasks of the knowledge management team is to simplify and streamline the collaboration toolset to the bare minimum of channels.


In
a very interesting HBR article on collaboration overload
the authorship team of Rob Cross, Reb Rebele and Adam Grant point out that requests for collaboration are seldom evenly distributed, and often the collaborative load falls on relatively few employees. They say, for example, that up to a third of value-added collaborations come from only 3% to 5% of employees, and that these employees often feel overloaded, disengaged and disaffected as a result, and can become bottlenecks rather than enablers.
Cross et al suggest ways in which this issue can be addressed; once the overloaded collaborators are identified, you can either give them ways to filter out, or shut off, requests for help, you can use redesigned office space and/or collaboration tools to make collaboration less of a burden, you can spread the load, and you can look for ways to reward collaboration in the reauired areas.
There is another way as well.
If
3% of the staff are in huge demand as collaboration agents, and
their collaboration efforts are adding value to others, and
this value outweighs the value of their own work (which it may well might, but you need to check)
then give specific collaboration roles to this 3%.
We should not assume that collaboration is always over and above your day job - collaboration can *be* the day job, provided it is focused, streamlined and facilitated.
In the video interview below with Santhosh Shekar, my Australian colleague Ian Fry talks about lesson learning in the Australian emergency services, both on the recent Bush Fires, and also during the Covid pandemic. He also shares his thoughts on ISO 30401:2018; the ISO management systems standard for KM.
Improved access to documents is the second-most common strategic approach to KM. How is this improved access delivered?
A question in our 2017 and 2020 surveys asked respondents how explicit or documented knowledge is managed. The question was phrased as follows:
Which of the following most closely represents the organisation's current approach to the management of "documented knowledge" (documents from which others can gain knowledge, and which are stored as part of the KM approach)?
The following options were provided;
Documented knowledge is scattered across many document stores (eg stored by department, team, individual or project)
Documented knowledge is collected in one or more knowledge-related document stores, without tagging.
Documented knowledge is collected in one or more document stores, and tagged
In addition to document collection, the store of documents is Curated (filtered, rated, prioritised etc)
In addition to document collection, the knowledge within the documents is Synthesised (combined into new documents such as, guidance, best practices or wiki content)
The figure below shows the survey results, for respondents in 3 categories:
The plot shows three main things:
As KM progresses, it becomes far less common to see documented knowledge scattered across many document stores, or collected without tagging;
As KM progresses it becomes far more common to see documented knowledge being curated and/or synthesised;
Curation and Synthesis are still minority activities.
One hundred years ago, management pioneer Mary Parker Follett wrote that "Unity, not uniformity, must be our aim. We attain unity only through variety. Differences must be integrated, not annihilated, not absorbed." Her words ring true today as we dance between complexity and order. How can we achieve unity through variety and the integration of our differences? We can start by better understanding alignment.

What is workplace alignment? The recently published MirrorMirror white paper states that alignment is "a shared understanding between people" and that alignment leads to engagement, collaboration, and effectiveness.
"Alignment is not people 'thinking the same thing', it is compatibility – making room for differences and challenge, new ideas and change."
Some of the underlying causes of misalignment include people saying yes but not taking action, teams making conflicting actions, and disconnects between functions or departments. While diversity is a positive attribute of any organization, it can lead to misunderstandings, and management direction is not sufficient to ensure alignment. People have to trust and understand each other without management interventions.
"Researchers have found that alignment includes shared understanding and team behaviours. They found that you cannot tell people to align.
People need to make sense of things on their own terms. They need to internalize meaning as relevant to their own context, through a common language with others."
The MirroMirror method uses surveys, interviews, and discussions to help teams see themselves 'in the mirror'. It is a non-judgemental approach. The alignment report is a starting point for teams to make changes to their strategy, learning, and support services.
While the survey is just the start of any performance improvement initiative, it helps to create a shared understanding of the current situation.
Disclosure: I am trained to facilitate MirrorMirror alignment surveys.
This week I have been blogging about the challenge of revolutionising the productivity of the knowledge worker; the challenge which Peter Drucker set for us.
The lean working environment for the manual
worker (image from greenhousecanada.com).
Does the working environment for the knowledge
worker look like this?
We have looked at
the division of knowledge labour
, the
automation/augmentation of knowledge work
, and
the knowledge supply chain
. Now we look at how to make the knowledge work-flow efficient.
When we look at how the productivity of the manual workers has been revolutionised, then the most recent advances come from lean production, lean working and the lean supply chain have all played their part. The Manufacturing Advisory Service (quoted
here
) claims a 25% increase in productivity through lean principles - a small increment compared to the difference made by division of labour, automation/augmentation and an effective supply chain, but still a significant factor in the continuous improvement of productivity. Lean is also a mindset - a relentless focus on adding value on behalf of the customer and removing waste effort and stock.
However a lean and efficient approach has not yet reached knowledge management.
Certainly most organisations now apply a division of knowledge labour, all are applying automation/augmentation to knowledge work, and many have the concept of a knowledge supply chain, supplying knowledge (or insights, experiences etc) to the knowledge workers, at the time and place they need it, to the required standard and quality, in a deliberate and systematic manner.
However our track record of delivering that knowledge in a lean and efficient way is poor, and there is little or no sign of a relentless focus on removing waste and adding value. Metrics measure the completeness of the KM framework and its effectiveness, but rarely its efficiency.
Knowledge bases are often full and clumsy to use, poorly structured and indexed, with duplicate, outdated or irrelevant material. Knowledge workers are often required to use multiple search engines or to visit multiple sites, social media streams are unfiltered and full of noise, knowledge is often synthesised, often unfindable, and usually is poorly tagged and labelled.
All of this makes knowledge seeking a massive chore, which it is easier to skip than undertake.
Over-production of knowledge, which then becomes noise in the system
Waiting for knowledge, and a slow turnover speed of knowledge
Unnecessary hand-off of knowledge, with unnecessary steps in the chain between knowledge supplier and knowledge user
Non-value added processing—doing more work than is necessary. We often see this in lesson-learning systems, where the work of sifting, sorting and synthesising multiple lessons or multiple search-hits has to be done by the knowledge user.
Unnecessary "motion" - the need to visit multiple databases, multiple knowledge bases, a separate CoP system etc
Excess knowledge inventory— frequently resulting from overproduction.
Defective knowledge.
Lean KM is the last of the four components to drive knowledge worker productivity. Together these 4 components can be revolutionary.


If we can have a lean and efficient knowledge supply chain, using automation and augmentation to deliver high quality knowledge to knowledge workers in a divided system of knowledge work, then we will approach Peter Drucker's initial vision of a 50-fold increase in productivity of the knowledge workers.
Every fortnight I curate some of the observations and insights that were shared on social media. I call these Friday's Finds.
"No honest poet can ever feel quite sure of the permanent value of what he has written. He may have wasted his time and messed up his life for nothing." —T.S. Eliot

"The first and final thing you have to do in this world is to last it and not be smashed by it." —Ernest Hemingway

"To know what you're going to draw, you have to begin drawing." —Pablo Picasso
"Pandemics are crises in complex systems, which are characterised by TENSIONS that can't be resolved. Schools (open? close?) is a good example. Both poles of the tension have some merit. 'Solving' one pole while ignoring the other is likely to have unintended adverse consequences." —@trishgreenhalgh
The Need for Order, by @snowded
"In order to effectively manage mess, and mess is a part of life, we need to provide a structure where we can, and we need to know its nature and its sustainability … Without that order the ability to manage complexity goes down, without the craft there is no art and without theory, there is no sustainable scaling of practice."
In a series of three posts, Jonathan Weisberg explains the Zollman effect. Here are some highlights.
What is the Zollman effect?
"More information generally means a better chance at discovering the truth, at least from an individual perspective. But not as a community, Zollman finds, at least not always. Sharing all our information with one another can make us less likely to reach the correct answer to a question we're all investigating."
What does it look like?
"Bigger, less connected networks are better insulated against misleading results. Some doctors are bound to get data that don't reflect the true character of the new treatment once in a while. And when that happens, their misleading results risk polluting the community with misinformation, discouraging others from experimenting with the new treatment. But the more people in the network, the more likely the misleading results will be swamped by accurate, representative results from others. And the fewer people see the misleading results, the fewer people will be misled."
"By limiting the sharing of results, we can increase the chance that alternatives will be explored long enough for their superiority to emerge."
When does it happen?
"RBO [Rosenstock, Bruner, and O'Connor] conclude that the Zollman effect only afflicts epistemically 'hard' problems, where it's difficult to discern the superior alternative from the data."
Can we observe and measure it?
"In this simulation [shown], we reach a point where there are no more green [persuadable] agents, only unpersuadable skeptics in red and highly confident believers in blue. And the blues have become so confident, they're unlikely to ever move close enough to any of the reds to get their ear. So we've reached a stable state of polarization."
"So the more agents are inclined to mistrust one another, the more likely they are to end up polarized … [and] … the more agents there are, the more likely it is that strong skeptics will be present at the start of inquiry".
What have I learned from this?
When facing complex challenges it is important that there is trust among people sharing their findings and observations. If trust is not established, it may be better to share knowledge in more diverse and larger networks with large structural holes rather than in a community where good ideas may be ignored or pushed down due to peer pressure.
The Zollman effect shows one of the dark sides of communities. Communities can strengthen bias, reinforce prejudice, and make it acceptable to dislike outsiders. Understanding all facets of communities as we continue to connect through technology-mediated online spaces becomes an important literacy.
"I know not what answer to give you, but this, that Power always Sincerely, conscientiously, de très bon Foi, believes itself Right. Power always thinks it has a great Soul, and vast Views, beyond the Comprehension of the Weak; and that it is doing God Service, when it is violating all his Laws." —John Adams to Thomas Jefferson
In a 2007 presentation — covered by ICTology — Graham Attwell discussed the future of schooling in view of online personal learning environments, concluding that, "The role for teachers will be mediating, engaging, monitoring, helping, motivating …" He further commented, "Not that assessment is a thing to avoid, but it should be taken outside the learning process. On the other hand, self-assessment is reflection and thus becomes part of the learning process". Given that many students are learning online these days, these are good ideas to be reconsidered for education, and for training.
In several discussions with educators 15 years ago I concluded that one incremental change that could have positive results for learning in formal settings is to remove teaching from assessment.
Anyone who teaches is not allowed to test.
Those who design the tests are answerable to those who learn and those who teach.
Those who teach are only responsible to those who learn.
Whether it be in public school or higher education, teachers should be there to help the learners. Others, who design and administer the tests must show how these tests are valid and reliable and be able to publicly defend the principles upon which they are based. When, or if, learners are tested, teachers are advocates not judges.
By removing the role of assessor, we can do a lot to advance learning. This does not require a wholesale dismantling of the system but is a pragmatic start.
The mantra of education should be – Those who teach will not test.
Brian Alger suggested many years ago that curriculum is confinement.
"One of the effects of curriculum design of any kind is confinement. And the confinement of human experience is an act of violence. A common example of this confinement via curriculum leading to violence is bullying."
Curriculum is developed by those in power. Assessment is an overt demonstration of that power (emphasis added).
"The issue of privilege brings us to this most central of dilemmas, one that we must all, both the testers and the tested, come to terms with: At every level of analysis, assessment is a political act. Assessments tell people how they should value themselves and others. They open doors for some and close them for others. The very act of giving an assessment is a demonstration of power: One individual tells the other what to read, how to respond, how much time to take. One insinuates a sense of greater power because of greater knowledge (i.e., possession of the correct answers). The political dilemma is a problem for all students, but it is particularly acute for students from diverse cultural, linguistic, and economic backgrounds whose cultures, languages, and identities have been at best ignored and at worst betrayed in the assessment process." —Assessment and Diversity, Georgia Earnest García, P. David Pearson, 1994
Consider the UN Convention on The Rights of the Child (1990). Article 13 states — "The child shall have the right to freedom of expression; this right shall include freedom to seek, receive and impart information and ideas of all kinds, regardless of frontiers, either orally, in writing or in print, in the form of art, or through any other media of the child's choice."
Curriculum limits the information and ideas that can be sought. Assessment limits freedom of expression. It's time for a change.
It's hard to stay clean in a dirty world. I have been trying to keep my site clean and not help the surveillance capitalists (e.g. Google, Facebook, etc.) to extract data about visitors to this site. I started by getting rid of Google Analytics. It was actually liberating to no longer focus on vanity metrics. Recently I have made changes like adding plugins to my WordPress site, such as Disable Google Fonts & Disable User Gravatar. But I was still helping the silicon valley ad-tracking business.
So I used a real-time website privacy inspector, Blacklight, to show me what I was missing.
The piece I overlooked, which was nicely explained by Surya Mattu, was that I was featuring embedded YouTube videos on my site. The embed feature, while convenient, was also tracking my visitors. So I deleted all the embedded videos and added plain hyperlinks. Yes, visitors will be tracked by Google if they click on them, but not if they just visit my site. It may be a game of whack-a-mole, but I am trying to do my little part to clean up this stinking mess of online tracking just to sell more crap.
What I have learned in doing this is how difficult it is for the average person or small business to not aid and abet the surveillance technologies that drive the current Web. If you take any website creation tool out-of-the-box, it will likely have tracking (surveillance) built in.
The game continues …
I will be speaking at the annual conference (online of course) of the CRHA [association of certified human resources professionals of Québec] on Wednesday 4 November this week. I will be explaining the personal knowledge mastery framework and how it can inform HR professionals for their own development as well as for their organizations.
My presentation will be in French. Jennifer Garvey Berger will be presenting in English. Non-members may attend the full day conference for $(CA)130 — CRHA 2020 program.
As usual, I have gone through many iterations of my presentations over the past several weeks. I removed a section with a perspective on the history that informs the HR profession and will share it here instead. I had originally presented a version of this at the HR Innovation Day for the Hochschule fuer Technik, Wirtschaft und Kultur in Leipzig, Germany last year.
What is the modern HR system today? It encompasses many areas, sometimes including training, usually pay and benefits, and often diversity and talent development. It's a very large field, and the CRHA has about 10,000 members in a province with a population of about 8 million.
But there is a lot of tradition weighing down this modern system
Bureaucratic Weight: Jobs, Roles, & Procedures
The construct of the job, with its defined skills, effort, responsibilities, and working conditions, is a key limiting organizational factor for any creative economy — Job is four-letter word.
The Taylorist assumptions of division of labour and packaging of tasks are just plain wrong today. Enforced standardization and unthinking workers following directions of management no longer work in cognitively demanding work that requires social skills for collaboration and cooperation. We should use — network management protocols.
Industrial Weight: Uniformity, Assembly, & Design
Design approaches such as instructional systems design (ISD) are premised on predetermined learning objectives and activities, usually based on good and best practices observed in the workplace. But they are useless when dealing with complexity. When no one can understand the vagaries of a situation in a changing, complex environment then the only thing to do is try out new things based on our best judgement and then watch, learn, and keep trying new practices, informed by — the Cynefin framework.
Agrarian Weight: Clock, Schedule, & Calendar
Time and motion studies, such as those done by Taylor and others, were based on the assumption that certain types of work were of equal value. Labour, as defined by Taylorists, is replaceable. It's all about standardized work and standardized recompense. But talent is unique — there is no hourly rate on internet time.
Feudal Weight: Sort, Label, & Select
Sorting, labeling, and selecting begins in school and then progresses into the workplace with annual performance reviews — a deadly sin — and the identification of high-potential workers (who can tell the future?). The future of schooling should be to prepare people for working smarter. Some HR departments are learning this as they remove academic qualifications from their recruiting requirements.
While there is a modern HR system today, it is still informed by some old traditions that may no longer be appropriate. All professionals should understand the underlying assumptions of their field, question them, and determine if they are still useful.
"A professional is anyone who does work that cannot be standardized easily and who continuously welcomes challenges at the cutting edge of his or her expertise." —David Williamson Shaffer
Every fortnight I curate some of the observations and insights that were shared on social media. I call these Friday's Finds.
Top Influencers in knowledge management by @cronycle [Long list to curate your own feed on KM]
@DougBoneparth — "Learning how to sell provides more job security than most college educations."
I used to tell people at Wired, "Don't come into Wired to work; work at home. Come into Wired to be interrupted and have chance meetings." —Kevin Kelly. HT @StewartBrand
If yer keeping track of pending job reductions announced over the past month or so:

Royal Dutch Shell: 9,000
Chevron: 6,750
Exxon Mobil: 14,000
Cenovus/Husky: 2,000
Suncor: 2,000
Marathon Petroleum: 2,050
Boeing: 31,000
HSBC: 35,000
Daimler: 30,000
Disney: 28,000
Cisco: 7,100
—@DPontefract
@DrFrankLipman — "There are a number of commonalities of long lived elders around the world, and these few stand out — 1) they live with a sense of purpose; 2) they give to others; 3) they have strong social networks that enable them to engage frequently with their communities, families and friends."
@JPCastlin — "The importance of ensuring diversity of thought is far, far, far too often underestimated in strategy. This goes for teams, but also individuals. Strategists who only have one angle with which they view the world will inevitably end up believing it is flat."
Ashby's Law of Requisite Variety
"Only variety absorbs variety."
This statement means that any viable system, which can cope with a changing environment, contains a matching variety (=possible system states) in relation to the environment. In short: The complexity of a viable system (or business) must match (up to a certain extent) the domain's complexity.
Professionalism, by @AndrewJacobsLnD
"I said before how it wasn't good enough for people in learning to be providing services that weren't to the required standard. You can't call yourself a professional if you're no better than the amateur with some basic kit."
@TrishGreenhalgh — "When we wrote our first paper (in March 2020) suggesting universal masking, even I wouldn't have predicted that it would ever be THE issue on the cover of Time magazine (which changed its name to 'VOTE' for this election)."
I spent the first 21 years of my working life with a regular pay cheque, lots of formal training, and a fairly regular schedule. Leaving the Army I worked at a university and a few years later for an e-learning startup. In 2003 I found myself without an office or a pay cheque and few prospects for local work. It was a similar situation to what many people faced this Spring with lock downs and job losses due to the pandemic.
After 17 years of distributed work, remote informal learning, and connecting with clients via video conferencing I think I have learned a bit about the 'new normal' many people are now facing. One early experience was running the Informal Learning Unworkshop online with Jay Cross, which cemented the idea of perpetual beta in my work.
Harold Jarche is a true pioneer. Nine years ago [2005], long before online activities were commonplace, we conducted a series of Unworkshops on the topic of web-based learning. We relied on free software. Our students came from Australia, Lebanon, Canada, Austria, the Azores, and points in between. Lessons were both synchronous and offline. To give people exposure, we used a different platform each week. I can't imagine anyone (aside from Harold) crazy (and innovative) enough to sign up for something like this." —Jay Cross (1944-2015), founder Internet Time Alliance
Social media are different than they were in 2003 but I am still firmly committed to blogging as my main form of sensemaking and connecting with a global audience. I have said many times that my blog gave me everything. In my first year of blogging I came across the concept of personal knowledge management and as part of my 'learning out loud' I described my evolving PKM processes over the years.
It was eight years later that I was contacted by Domino's Pizza to incorporate what I now call personal knowledge mastery into their leadership training for franchise owners. The model kept evolving and interest slowly grew. Later, ING Bank would incorporate some of the model and practices into their digital employee initiative. Carlsberg has used PKM in their global leadership training and we are currently implementing a 'Working Smarter with PKM' program at a global financial institution.
The reality of learning and working at the same time is starting to sink in for many people this year. There was no course to prepare us for the pandemic. Medical experts are learning as they go — so is everyone.
There are more questions than answers about the "now normal." Yet many of these can be approached in a systematic and scientific way. In May 1932, during the Great Depression, Franklin D. Roosevelt — who was running for president at the time — called for "bold, persistent experimentation." We need a similar mindset and approach to shape the "now normal." While we are likely to be in this situation for quite some time, we have the power to define and make the best of it. —Fair Observer 2020-10-26
So I guess I should say thanks to the owners of that e-learning company who decided to let me go. The company is no longer there but I am still standing, and learning, and better prepared for life in 2020.